Banner Doodle's Giveaway by n.i.e.y.x.z.h.a ™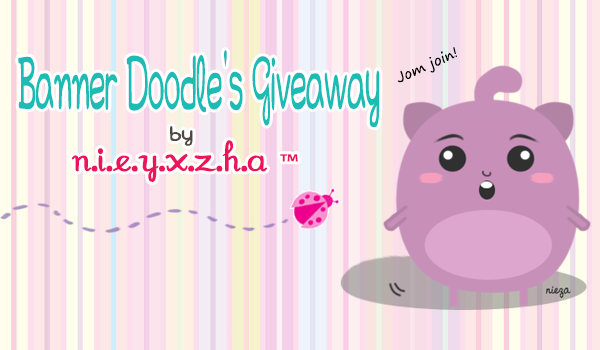 hey hoy... morning korang... yaya xbape sehat hari ni.. mood pon xberapa nak oke je ni.. dengan selsema + batuk2 + gatal tekak ni kan.. haisyhhhhh.... tapi bile pepagi bukak blog je ternmpak plak 1comment kat chatbox yaya.. nak tgok commentnyer??? huhuhu..tadaaaa......
see.. nieza comment kat chatbox, die tnye nak banner doodle free??? oh..of course r nak..mne tau nasib menyebelahi yaya kan di pagi yang segar bugar ni kan.. huhuhu.. so ape lagi,, dengan sepantas kilat + petir + halilintarnya,,, yaya pon pergi lah usha2 segmen die ni.. so dengan bebesar hatinya yaya pon nak join jugak.. huhuhu.. kalau korang nak join pon boleh.. click je kat banner die yang kaler purple di atas ini yerk.. huhuhuhu...oke..gtg,nak smbung kje...
to nieza : thanks btw sebab ajak yaya join ur giveaway..=]
mood : xberapa nak oke, tapi try untuk oke kan jugak..=]
lots of love..
yayamongekss..=]